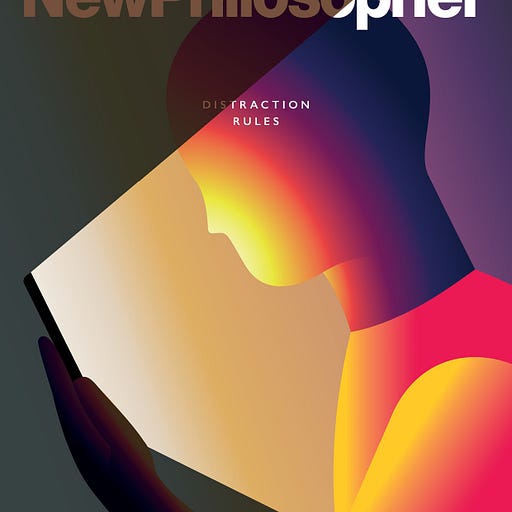 Mar 13 • 8M
Info cards for making decision about DMTs
Is there a way to make information regarding MS disease-modifying therapies more accessible in the era of endless distractions and information overload?
MS-Selfie is a self-help resource for people with multiple sclerosis
One of my favourite reads is the bimonthly 'New Philosopher'. The latest issue concerns distraction and the crisis of information overload. At the same time, there has been a switch from physical objects, for example, books, to online resources such as podcasts, audiobooks, apps, etc. Feedback from many pwMS, informally in one-on-one discussions, via surveys and focus groups, is that they are overloaded with online resources and smartphone apps and would prefer something physical. Something to touch and play with. 
To counteract this, I asked Safiya Zaloum, one of our very bright and highly-motivated medical students, to produce a set of info-cards (flashcards) that could be used in the clinic to help inform people with MS about disease-modifying therapies (DMTs) and to assist them in coming to a treatment decision. 
The idea is simple to have a single info card per DMT as a pack of cards. The HCP then takes the pack of cards and selects the relevant info cards for a particular patient. This may, for example, result in the patient been give two, three or four cards of the DMTs they are eligible for and what the HCP is recommending. The patient then goes away with their selection and a pack of cards to further research and make a guided decision. 
Safiya designed the info cards to be simple and intuitive. In addition, we wanted the pack of cards to include unlicensed therapies that are prescribed off-label so that the cards can be used worldwide and not only represent clinical practice in high-income countries.
Safiya needs help from you. Are the info cards addressing an unmet need? Is it a good idea? What do you think of them from an information and design perspective? What would you change about them? Would you use them? Before taking these info cards forward, we would appreciate your feedback. 
You can download a PDF of the cards from my FileSharing site or the individual cards from a separate folder. Safiya has created an online survey for feedback. We are aware that this will take some time for you to complete. We would like to know if the info cards add anything to our ClinicSpeak online DMT decision tool.
Thank you. 
Safiya is a medical student in her penultimate year at Barts and the London School of Medicine, Queen Mary University of London. Last year, she completed an MSc in Neuroscience and Translational Medicine, which included a project on the response to COVID-19 vaccination in pwMS on DMTs. She is interested in creating useful resources for pwMS. The MS-Selfie Info Cards aim to be a resource for pwMS with a digestible amount of information on DMTs to aid in treatment choices.  In her spare time, she enjoys teaching workshops with N2O: "Know the Risks" on the risks of nitrous oxide to the spinal cord, reading, and playing the violin. 
Subscriptions and donations
Paid subscriptions to MS-Selfie are being used to administer the Newsletter and associated MS-Selfie microsite currently in development. At the request of several readers, I have now added the option of making a one-off donation. To keep this initiative open to all readers, I would appreciate it if those who can afford a subscription to subscribe. For active paying subscribers, thank you; your contribution is much appreciated.  Because of the falloff in paying subscribers, I am considering returning to a paywall that will give paying subscribers six months of unlimited access to all newsletters. At the same time, free subscribers will have to wait to access the newsletters later as an email but on the substack site.
General Disclaimer: Please note that the opinions expressed here are those of Professor Giovannoni and do not necessarily reflect the positions of Barts and The London School of Medicine and Dentistry nor Barts Health NHS Trust. The advice is intended as general and should not be interpreted as personal clinical advice. If you have problems, please tell your own healthcare professional, who will be able to help you.